What are the Pros and Cons of a Walk-In Tub?
Wondering if a walk-in tub is right for you? A walk-in tub is a great way to upgrade your home for a safer, more comfortable and therapeutic bathing experience. As with any home upgrades, deciding whether or not to get a walk-in tub is a big decision. It's important to weigh all the pros and cons of a walk-in tub to determine if it is the right choice for you.
When you're ready, it's easy to request a free quote from a KOHLER Authorized Dealer to learn more about upgrading your home.
What is a walk-in tub and how does it work?
A walk-in tub is a bathtub with a watertight door and seat that allows the bather to step into the tub over a low threshold. The accessible design makes entering and exiting the tub easier and more secure, helping people of all ages and levels of mobility enjoy a safe and comfortable bathing experience while remaining independent at home.
What are the pros of a walk-in tub?
Comfort
Comfort features you can expect from a KOHLER Walk-In Bath include: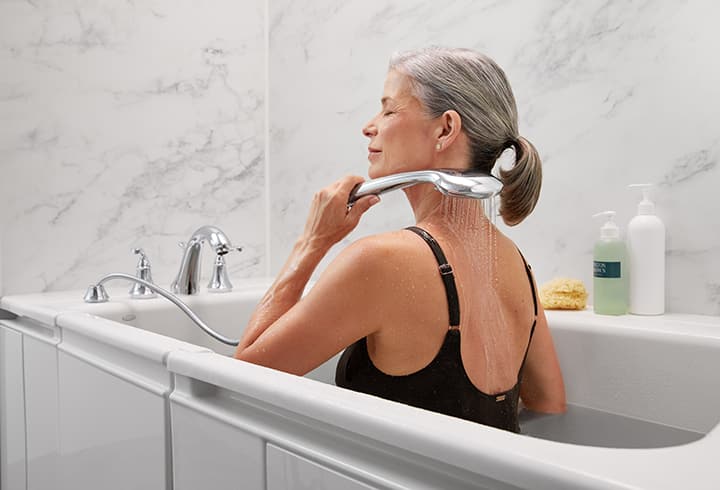 Whirlpool jets
Heated backrest
Handshower
Fast drain
Extra-wide seat
A walk-in tub offers comfort features that are not available in a typical tub or shower. Whirlpool jets, handrails, a handshower and a wide seat allow for a bathing experience that is more comfortable than a traditional bathtub.
Enjoy hydrotherapy for physical wellness, a heated backrest that keeps you warm throughout your soak and whirlpool jets that massage your spine, calves and feet to relieve pain and massage sore muscles. Revel in the soothing benefits of a walk-in tub that leaves you feeling refreshed and invigorated.
Safety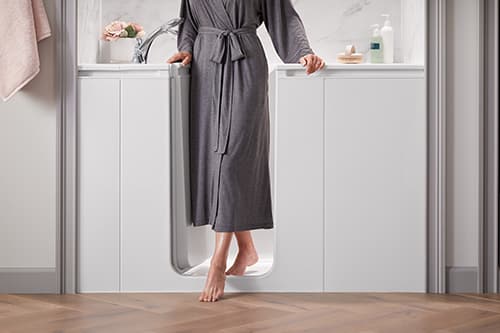 Safety features you can expect from a KOHLER Walk-In Bath include:
Low Step-In
Handrails
Textured Surfaces
Extra-Wide Door
Control Panel
A walk-in tub is great for anyone looking to stay in their home longer, making aging in place safer with an independent and convenient bathing experience. When it comes to aging in place, safety is non-negotiable, which makes a walk-in tub an obvious choice.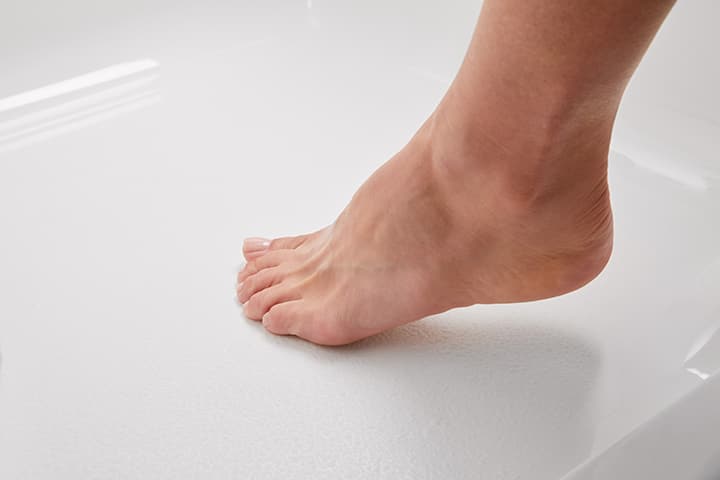 An ultra-low step-in, handrails and a wide door make it easy to get in and out of the bath with ease. Textured surfaces provide more secure footing while getting in or out of the bath. A walk-in tub offers safety and convenience features that your typical bath or shower simply can't offer.
Experience
A walk-in tub combines safety, comfort and peace of mind to offer a complete experience you can't get from any other bathtub. Being able to independently get in and out of the tub with ease is not a luxury that can be offered from a shower or traditional bath alone.
Upgrading to a walk-in tub elevates your bath time routine to allow ultimate relaxation while also relaxing your mind knowing that you or your loved one can bathe without worries. But that isn't the only reason to get a walk-in tub—walk-in tubs are also great for anyone who wants a calming, spa-like experience right at home.
A walk-in tub combines safety, comfort and peace of mind to offer a complete experience you can't get from any other bathtub.
Home Value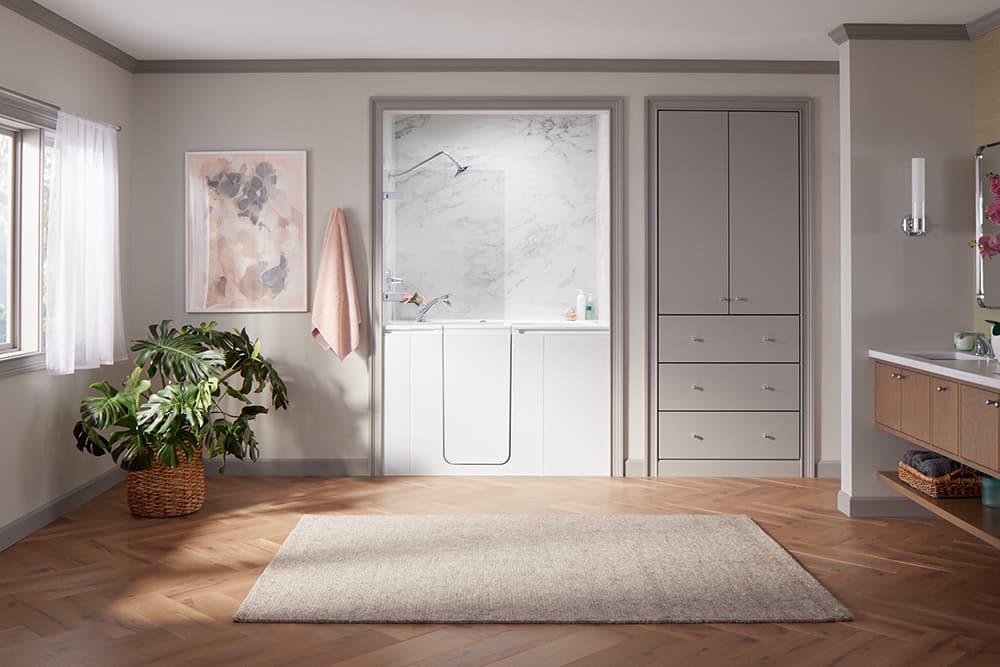 In an article by Realtor Magazine®, many home experts recommend that you have at least one tub in your home to increase your ROI if you sell. A walk-in tub can be used by anyone, from children to seniors, making it a smart investment for both resale value and future accessibility.
Walk-in showers are also popular in the real estate market and can help appeal to homebuyers. If you have limited space or want to increase your tub's versatility, consider a walk-in tub shower combo. KOHLER offers a Shower Package that allows you to enjoy the comfort of a bath and the ease of a shower.
To learn how much a walk-in tub adds to your home's value within your area, contact a local real estate agent.
What are the cons of a walk-in tub?
Installation
If not installed properly, the installation process for a walk-in tub could be a con. It is important that if you purchase a walk-in tub that it is installed by a trained and certified professional to cause the least disturbance in your home and day-to-day life. That is why it is so important to buy a quality product from a company that you can trust.
At KOHLER, your certified installer takes care of all the plumbing and electrical wiring, removes your old tub and tests all the features after the tub is filled to ensure a quick and painless installation process. And most of the time, your KOHLER Authorized Dealer can do it all in as little as one day! Want to know more? Watch our installation video below.
Water Usage
Walk-in tubs hold more water than traditional bathtubs. The exact water capacity depends on the size of the bather and how much water is displaced. Luckily, most new home water heater tanks can easily fill a walk-in tub. Most manufacturers recommend that you have a new 50+ gallon water tank in order to maintain the preferred water temperature in the bath. To learn how to choose the right water heater, check out our Buyer's Guide.
Cost
The costs of a walk-in tub can be higher than the price of a typical bathtub. The good news? A walk-in tub comes with far more features than a normal bathtub, making it well worth the price tag. If you are looking for a bathtub that has easy access, whirlpool jets, a heated backrest, a handshower and so much more, then a walk-in tub is a smart investment.
Bathing in a KOHLER Walk-In Bath is an elevated experience that is unlike any bath you've had before. Get peace of mind, luxury and comfort with a KOHLER Walk-In Bath.