Walk-In Tub vs. Walk-In Shower: Which Is Best For You?
The bathroom is one of the most-used spaces in the home. It's where you start your day and end your night. It's a space in your home that offers privacy and respite from the chaos of the outside world, and where each person carries out their little daily rituals. Yet many people don't see the importance in designing their bathroom to complement their daily routine.
For those who are ready to take the next step in making their bathroom work better for them, a common debate is whether to install a walk-in tub or a walk-in shower. Each has its own set of benefits, and this blog post will break them down to help you decide which option is best for you and your needs.
Choosing between a new walk-in tub or shower for your home depends greatly on your needs and mobility.
Benefits of a Walk-In Shower
Low step-in entry
Numerous design selections
Multiple showerhead options
Add-on accessories for storage and safety
Benefits of a Walk-In Tub
Low step-in entry
Several safety modifications
Hydrotherapy and comfort features
Bathe in seated position
Which Is More Comfortable?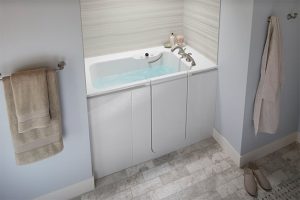 Choosing between a new walk-in tub or shower for your home depends greatly on who is using this bathroom. The user's needs and mobility should be taken into consideration. While both walk-in tub and shower offer the safety benefit of a low step‑in for easy entry, the comfort and design advantages vary.
The KOHLER® Walk‑In Bath allows you to bathe in a comfortable seated position while enjoying the therapeutic benefits of hydrotherapy whirlpool jets. It also allows you to recline as you bathe. Its specialty safety features allow the user to bathe independently, and can even help them to stay independent in their home longer.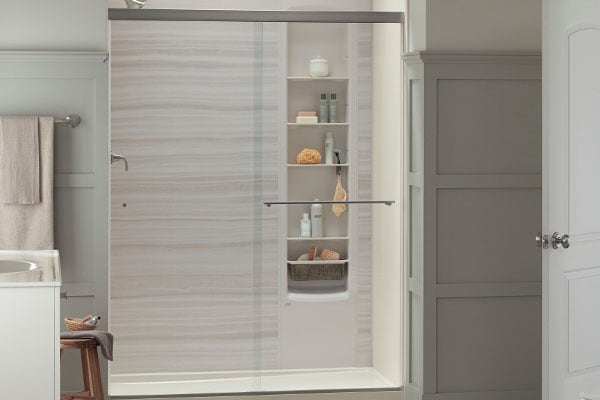 However, those who feel comfortable standing for a longer period of time may find that the KOHLER LuxStone® shower, which provides a more traditional shower experience, better meets their needs.
Which Is Less Expensive: Bathtub Or Shower?
While safety and health benefits are important factors, practical details like the cost of each bathing option should also be considered. Ask: What's your budget? The cost of a walk-in bath or walk-in shower can vary depending on the brand, installation fees and features you add on. That's why you should shop around and schedule a quote appointment to compare prices.
How Much Space Do You Have?
The size of your bathroom also plays a role in your decision. Walk-in showers typically take up less space, making them ideal for smaller spaces. However, many walk-in tubs like the KOHLER Walk-In Bath can be installed to fit in the footprint of your traditional bathtub for your convenience.
Will a Walk-In Bath or Shower Increase Your Home's Resale Value?
According to an article in Realtor Magazine®, many home experts recommend that you have at least one tub in your home to increase your ROI if you sell. So if your guest room already has a bathtub, a walk-in shower in the main bedroom may appeal to buyers. But if you plan to remain independent in your home as you age, you may want to consider installing a walk-in bath for its safety and comfort features.
Should I Consider a Tub Shower Combo?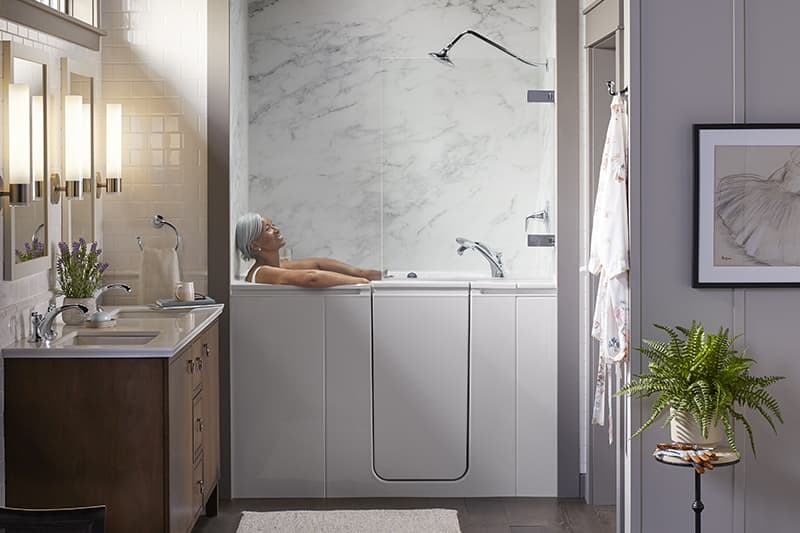 If you can't live without either option, a walk-in bathtub and shower combo is a great compromise to meet the needs of everyone in your household. This accessible bathing solution combines the safety and comfort of a walk-in bath with the ease of a shower. You can transform your KOHLER Walk-In Bath into a tub shower combo with the exclusive Shower Package! Enjoy a soak in your personal spa-like bath or a traditional standing shower—you've got total flexibility.
When It's Decision Time
When considering a bathtub or shower renovation, think about your daily routine and what bathing features would provide the most benefit. Do you need a place to soak and relax after a long day? Do you want versatility in design and accessories? Are you preparing your home to allow you to "age in place?" How much does each cost? How big is your bathroom? Think about what factors and features matter most to you.
If you have your decision or need the assistance of a KOHLER representative to find the best solution, contact KOHLER by requesting an in-home quote appointment.