Best Walk-In Tub Features For Seniors
For seniors who wish to remain independent in their home, certain walk-in tub features are more important for safety and comfort than others. With unique needs and mobility challenges, there are many factors for seniors to consider before making a walk-in tub purchase.
Whether you are planning your home for your golden years or need a new accessible bathing solution immediately, here are some features to keep top-of-mind as you shop.
Step-In Height
Consider the threshold you step over to enter the walk-in tub, and opt for the lowest one possible. Designed to prevent the user from lifting their leg too high to enter the bath, the accessible step-in is one of the most important features to note while you compare walk-in tubs. Many walk-in tubs have stepovers as high as seven inches, which for many is still too high to comfortably access the bathtub. The KOHLER® Walk-In Bath offers an ultra-low 3" step-in, the lowest on the market.
Therapy Features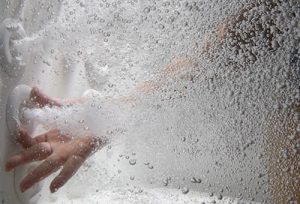 Many seniors look for comfort features, such as hydrotherapy jets and heated surfaces, to add a spa-like feel to their bathing experience. Whirlpool jets and air jets are quality enhancements that can massage aching muscles and soothe joint pain. Additional in-line heating can make the bath more comfortable as the tub fills and drains.
Tip: Ensure that you research the quality of the jets rather than quantity. Having too many jets can decrease the overall power of the jet system.
Handrails & Grab Bars
Your safety as you enter, exit and operate the walk-in bathtub is paramount. Look for tubs that offer surrounding handrails and easily accessible grab bars. These will help you transition securely from standing to sitting. The KOHLER Walk-In Bath features a grab bar and an indented handrail around the rim of the tub for secure movement at every step.
Textured Surfaces
Slip-resistant flooring and surfaces ensure a secure step in and out of the bathtub. Look for a walk-in tub with textured surfaces for a better grip in wet and dry conditions.
Other features to consider
Fill and drain time
Ease of cleaning
Seat depth
Warranty
Handshower
Stay in the home you love with accessible and therapeutic bathing features that make every soak more enjoyable. With a walk-in tub, maintaining your independence at home is ultimately the best feature.